SAMPLE BREAD AND BAKERY BUSINESS PLAN IN NIGERIA
This SAMPLE BREAD AND BAKERY BUSINESS PLAN IN NIGERIA is useful for apprentices in training, small and medium scale business owners, large scale businesses, accessing Bank Loans, Equity funding and  Grants. This business plan can also be used in Proposal Writing, developing Business Concept Notes, understanding industry and market analysis and so on.
FEGEOSTOM produces bread and other backed products such as cake, pastries, pies and in Osogbo, Osun State. Nigeria. We supply to households, offices and retailers. We also offer apprenticeship training and consultancy in the industry.   
Mr Akinyemi Femi who started the business is a graduate of Family Nutrition and Consumer Sciences. He has wide experience in the industry having work in one of the most reputable bakeries in Lagos state.
Our goal is to be one of the best three bakery in South West Nigeria. Our equipment are word class and our ovens are specially fabricated to produce a bread so fresh that our market outrun competitors on daily basis.
Our core value is high level neatness throughout the process of production. We already receive approval from the National Food and Drug Control (NAFDAC) Consumer Protection Council (CPC) and other relevant agencies.
We recruit mostly through the apprenticeship process and invest so much in continuous training of our workers. We are proud to say that we have some of the best bakery professionals in Nigeria.
In Nigeria, the demand for bread and baked product is increasing on a daily basis and this is good news for us who want to extend our market outside Osogbo and other parts of the South West.  We have very strong distribution channels that supply fresh backed products on daily basis. We also have a very good online presence on Facebook, twitter and so on
We are known for a unique taste different from other bakery around and this has made our customers always want to come back. As a result of this, our customers are increasing on daily basis.
The financial projection in our feasibility studies shows that we need 25 Million naira for expansion. There is consistent profit margin in the next three production years with positive cashflow.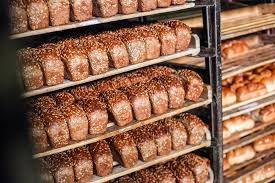 FEGEOSTOM has diversified products that require the same equipment to produce. We also offer consultancy service and a government approved apprenticeship training programme. Our products include:
Bread made from flour, fruits and wheat

Cakes of events and cup size

Pizza and pies

Consultancy Services and

 Apprenticeship training
Our Vision Statement
To be among the best three bakeries in the country in the next 6 years.
To provides excellent products, first class customer service, and consistent professionalism.
MARKET ANALYSIS FOR SAMPLE BREAD AND BAKERY BUSINESS PLAN IN NIGERIA
In Nigeria, baking related businesses creates more than 50 Billion Naira average income per year. There are about 5,000 bakeries in the South West alone.
In one of the Nigerian most reliable food research report for 2018, bread and other baked product has been on top of fast food and snacks by volume for the past three consecutive years. Profit remain consistently attractive despite rise in the cost of production especially due to the last recession. Bakery also top the list of employers in the food industry as it generates nearly 53% of employment in the food production sector
Top list of bakery products according to market demand include
Bread (made with flour, wheat and fruit) :45%
Cakes (events and cup size) :25%

Different kinds of Pies: 15 %

Others including pizzas 15%
There is growth forecast of 5% in the market for bread and 2% increase in other baked products in the next five years. This is due to Nigeria economy crawling out of recession, increased minimum wage and innovation in the bakery industry that make products of better quality.
SWOT ANALYSIS FOR SAMPLE BREAD AND BAKERY BUSINESS PLAN IN NIGERIA
Strength:

·         Extensive range of products for different customer segments

·         First class equipment

·         Strong distribution channel with free delivery

·         Management experience

 

Opportunities

 

·         Large market demand for bead and other baked product

·         Large demand for bakery training and consultancy

Weakness

·         Inadequate expansion capital

·         Low production capacity

·         New in the location

 

Threat

·         Stiff competition

·         Government policy

·         Lack of credit facilities
Competitive Advantage
We Provide fresh and high-quality bread that can stay for longer time without losing freshness and taste

We have highly professional customer services and maintain customers loyalty

We provide convenience through online order and eCommerce presence
FOR THE FULL DETAILS OF THIS BUSINESS PLAN, BUSINESS MODEL CANVAS, MARKETING PLAN AND FINANCIALS: 
Please call our business plan consultants: +2348031504604, +2347030450130.
We have a team that can help you write your specific business plans, feasibility studies, Marketing plan,  grant application,  market research, business brand story and so on.
Contact: +2348031504604, +2347030450130 for details
Other Business Plan available:
Adire and Kampala Business plan in Nigeria and Africa
Auto Repair Business plan in Nigeria and Africa
Block Industry Business plan in Nigeria and Africa
Bread making plan in Nigeria and Africa
 Business plan in Nigeria and Africa
Cassava Business plan in Nigeria and Africa
Catering Business plan in Nigeria and Africa
Catfish Business plan in Nigeria and Africa
Cattle rearing Business plan in Nigeria and Africa
Chinchin Business plan in Nigeria and Africa
Cocoa Business plan in Nigeria and Africa
Coca-cola and Soft drinks distribution Business plan in Nigeria and Africa
Cooking gas Business plan in Nigeria and Africa
Cosmetology Business plan in Nigeria and Africa
Crèche Business plan in Nigeria and Africa
Drycleaning Business plan in Nigeria and Africa
Event management Business plan in Nigeria and Africa
Fashion Business plan in Nigeria and Africa
Feedmill Business plan in Nigeria and Africa
Frozen food Business plan in Nigeria and Africa
Furniture Business plan in Nigeria and Africa
Ginger farming Business plan in Nigeria and Africa
Goat Business plan in Nigeria and Africa
Groceries Business plan in Nigeria and Africa
Groundnut oil Business plan in Nigeria and Africa
Herbal Business plan in Nigeria and Africa
Hide and skin Business plan in Nigeria and Africa
Honey bee Business plan in Nigeria and Africa
Honey production Business plan in Nigeria and Africa
Hotel Business plan in Nigeria and Africa
Ice block Business plan in Nigeria and Africa
ICT Business plan in Nigeria and Africa
Integrated Agriculture Business plan in Nigeria and Africa
Interior Deco Business plan in Nigeria and Africa
Laboratory Business plan in Nigeria and Africa
Leather tanning Business plan in Nigeria and Africa
Logistics Business plan in Nigeria and Africa
Maize farming Business plan in Nigeria and Africa
Medical equipment and supplies Business plan in Nigeria and Africa
Mobile Kitchen Business plan in Nigeria and Africa
Moringa Business plan in Nigeria and Africa
Mushroom Business plan in Nigeria and Africa
Music equipment Rentals Business plan in Nigeria and Africa
Nylon Production Business plan in Nigeria and Africa
Paint Production Business plan in Nigeria and Africa
Palm oil Business plan in Nigeria and Africa
Paper Recycling Business plan in Nigeria and Africa
Petrol station Business plan in Nigeria and Africa
Pharmacy Business plan in Nigeria and Africa
Pig Farming Business plan in Nigeria and Africa
PKO extraction Business plan in Nigeria and Africa
Plantain chips Business plan in Nigeria and Africa
Plastic bottle recycling Business plan in Nigeria and Africa
Popcorn Business plan in Nigeria and Africa
printing and multimedia Business plan in Nigeria and Africa
Quarry Business plan in Nigeria and Africa
Raw gold Business plan in Nigeria and Africa
Restaurant Business plan in Nigeria and Africa
Retail Business plan in Nigeria and Africa
Rice milling Business plan in Nigeria and Africa
School Business plan in Nigeria and Africa
Shear butter Business plan in Nigeria and Africa
Shoe making Business plan in Nigeria and Africa
Soap making Business plan in Nigeria and Africa
Tea and beverages Business plan in Nigeria and Africa
Tissue paper and serviette Business plan in Nigeria and Africa
Transportation Business plan in Nigeria and Africa
Travel and tour Business plan in Nigeria and Africa
Vegetable farming Business plan in Nigeria and Africa
Vocational Business plan in Nigeria and Africa
Water production business plan in Nigeria and Africa
Yam farming and sales Business plan in Nigeria and Africa
Yougut production and sales Business plan in Nigeria and Africa