SHEA BUTTER TRAINING AND BUSINESS PLAN IN NIGERIA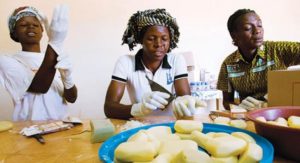 YADEN Shea Butter is one of the top shea butter business experts in Nigeria. We have been exploring the business along its value chain for the past seven years. We specialize in the supply of grade "A" shea butter to local and international markets in Metric tonnes. We also export shea butter to Asia, America, Europe and South Africa. We have recently begun processing shea butter into different cosmetic products with unique quality and first class branding.  We also organize both free and paid training on shea butter business, usefulness and value added.
 We are registered as a Limited Liability Company managed by experienced persons in the agro-allied industry.
Our products and services include shea butter, shea butter cream, shea nut cake and some shea cosmpetic products. We also offer consulting services for those intending to go into share butter businesss.  These service include
Purchase of modern shea butter processing equipment.

Where to find and how to recognize recognize grade "A" shea butter.

The shea butter processing techniques and value added

Exporting of shae butter to Asia, America and Europe

Acesssing fund and networking for shea butter business (and lots more…)
Interested in Shea Butter Business Training? Click here to register
VISION
To be the most recognize shea butter Company in Nigeria and top 3 in west Africa
MISSION
Commitment to exploring and updating our knowledge of shea butter business and value chain with a view to offering best service to our customer 

To take advantage of modern technology and equipment for driving shea butter processing in Nigeria.

To continue to make impact in the community by opening up job opportunities through our continual expansion.
OBJECTIVES
To run the business in a cost-effective operation that can maximize profit and maintain quality.

To establish a well-known brand recognition in Nigeria

Maintenance of Hygienic, safe and human friendly processing facility.

Hire professional and experienced staffs and use modern processing equipment.
Market Analysis for Shea Butter training and Business plan in Nigeria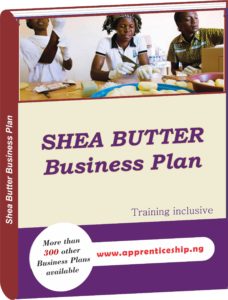 Nigeria is the leading source of shea butter in the world today although some other regions of West Africa also have it in considerable quantity. Nigeria produces more than half a million metric tonnes of shea butter annually with export quantity less than 50,000 tons. Only 10% of the remaining quantity is processed in Nigeria. The rest is left to degrade to less valued quality and sold locally at a lower price for use as cream, candle production, etc.
The foreign market demand for shea butter is enormous and it is constantly increasing as more of its usefulness continues to unravel globally. Shea butter is used for chocolate production instead of cocoa butter. Shea butter is also now highly demanded in the cosmetic industry as the most preferred    natural oil with high healing power. It is highly potent in treating diverse skin infections. Shea butter penetrates skin so easily and in little time according to scientific evidence.
The American Shea Butter Institute has declared shea butter as the skin best friend that must be present in all households. Other industries demanding for shea butter include the pharmaceutical and food markets (and lots more).
Despite this huge potential and market share, processing and exportation of shea butter in Nigeria remains low. For example, of the more than 1,500 metric tonnes of shea nuts produced in 2017, only 250 tonnes metric tonnes were exported. This shows that there is there is more than 500 million dollars annual income potential being lost every year so far due to low participation in shea butter business
Competition
Competitors include; OLORI ADE Shea Butter, Ibadan; STARDREY cosmetics, Oyo town and G-GLERN global ventures, Saki.
The advantage we have over our competitors is our sound knowledge of the market. We also have experience in the exporting of shea butter that is far ahead others in the business. We also understand the value chain and processing of shea butter with modern equipment. Our customer experience is second to none with effective engagement and feedback.
Interested in Shea Butter Business Training? Click here to register
SWOT ANALYSIS FOR SHEA BUTTER TRAINING AND BUSINESS PLAN IN NIGERIA

Strength                           
Abundant and close access to raw material

Government incentive and enterprise development

Sound knowledge of the shea butter market in Nigeria

In possession of modern equipment and production technique

Already gained trust from our current customers
Weakness
Inadequate finance and/or credit facilities

Lack of shea butter quality testing institute for global standard

Poor basic infrastructure, such as good road, consistent power supply etc.

dwindling state of Nigeria's economy

Lack of uniform and/or attractive exchange rate.
Opportunity
Growing export market shea butter

Long-time community knowledge of shea butter usefulness.

Competitors are still very few

Growing customer base

Current attention to SMEs to reduce unemployment
Threats
Deforestration affecting shea butter trees

No intentional planting of new shea butter  trees

Climate and environmental change affecting shea butter tree fruiting

Deteriorating level of security in some shea butter rich communities of Northern Nigeria
 Managements 
Akinyemi Femi
Has been managing this shea butter and processing business for more than 10 years. He has lead so many trainings, conferences that is centered on shea butter processing and export in Nigeria and West Africa. He has a very sound knowledge of shea butter market in Nigeria and exportation procedure to Europe America an Asia. He is a graduate of Obafemi Awolowo University.
Khadijat Rufai
A graduate of Business administration with 7 years of experience in preparing packaging shea butter for export and managing financials. She is a member of the ICAN and also manages matters related to tax and licenses.
FOR THE FULL DETAILS OF THIS BUSINESS PLAN, BUSINESS MODEL CANVAS, MARKETING PLAN, FEASIBILITY STUDIES AND FINANCIALS: 
Please call our business plan consultants: +

2348147161686
Or ORDER YOUR BUSINESS PLAN HERE:



http://www.apprenticeship.ng/product/shea-butter-business-plan/
We have a team that can help you write your specific business plans, feasibility studies, Marketing plan,  grant application,  market research, business brand story and so on.
Contact: +

2348147161686
for details
Interested in Shea Butter Business Training? Click here to register
Other Business Plan available:
Adire, kampala business plan in Nigeria
Auto Repair Business plan in Nigeria and Africa
Block Industry Business plan in Nigeria and Africa
Bread and bakery business plan in Nigeria
Cassava Business plan in Nigeria and Africa
Catering Business plan in Nigeria and Africa
Catfish Business plan in Nigeria and Africa
Cattle rearing Business plan in Nigeria and Africa
Chinchin Business plan in Nigeria and Africa
Cocoa Business plan in Nigeria and Africa
Coca-cola and Soft drinks distribution Business plan in Nigeria and Africa
Cooking gas Business plan in Nigeria and Africa
Cosmetology Business plan in Nigeria and Africa
Crèche Business plan in Nigeria and Africa
Drycleaning Business plan in Nigeria and Africa
Event management Business plan in Nigeria

Fashion Business plan in Nigeria and Africa
Feedmill Business plan in Nigeria and Africa
Frozen food Business plan in Nigeria and Africa
Furniture Business plan in Nigeria and Africa
Ginger farming Business plan in Nigeria and Africa
Goat Business plan in Nigeria and Africa
Groceries Business plan in Nigeria and Africa
Groundnut oil Business plan in Nigeria and Africa
Herbal Business plan in Nigeria and Africa
Hide and skin Business plan in Nigeria and Africa
Honey bee Business plan in Nigeria and Africa
Honey production Business plan in Nigeria and Africa
Hotel Business plan in Nigeria and Africa
Ice block Business plan in Nigeria and Africa
ICT Business plan in Nigeria and Africa
Integrated Agriculture Business plan in Nigeria and Africa
Interior Deco Business plan in Nigeria and Africa
Laboratory Business plan in Nigeria and Africa
Leather tanning Business plan in Nigeria and Africa
Logistics Business plan in Nigeria and Africa
Maize farming Business plan in Nigeria and Africa
Medical equipment and supplies Business plan in Nigeria and Africa
Mobile Kitchen Business plan in Nigeria and Africa
Moringa Business plan in Nigeria and Africa
Mushroom Business plan in Nigeria and Africa
Music equipment Rentals Business plan in Nigeria and Africa
Nylon Production Business plan in Nigeria and Africa
Paint Production Business plan in Nigeria and Africa
Palm oil Business plan in Nigeria and Africa
Paper Recycling Business plan in Nigeria and Africa
Petrol station Business plan in Nigeria and Africa
Pharmacy Business plan in Nigeria and Africa
Pig Farming Business plan in Nigeria and Africa
PKO extraction Business plan in Nigeria and Africa
Plantain chips Business plan in Nigeria and Africa
Plastic bottle recycling Business plan in Nigeria and Africa
Popcorn Business plan in Nigeria and Africa
printing and multimedia Business plan in Nigeria and Africa
Quarry Business plan in Nigeria and Africa
Raw gold Business plan in Nigeria and Africa
Restaurant Business plan in Nigeria and Africa
Retail Business plan in Nigeria and Africa
Rice milling Business plan in Nigeria and Africa
School Business plan in Nigeria and Africa
Shear butter Business plan in Nigeria and Africa
Shoe making Business plan in Nigeria and Africa
Soap making Business plan in Nigeria and Africa
Tea and beverages Business plan in Nigeria and Africa
Tissue paper and serviette Business plan in Nigeria and Africa
Transportation Business plan in Nigeria and Africa
Travel and tour Business plan in Nigeria and Africa
Vegetable farming Business plan in Nigeria and Africa
Vocational Business plan in Nigeria and Africa
Water production business plan in Nigeria and Africa
Yam farming and sales Business plan in Nigeria and Africa
Yougut production and sales Business plan in Nigeria and Africa