EVENT MANAGEMENT BUSINESS PLAN IN NIGERIA
Mhi-choice event is a reputable event planning company based in Abuja, Nigeria. The company manages all kinds of events that include Wedding parties, organization events, business/ trade exhibitions, fashion parades, competition, anniversaries and other services such as decorations and rental services. We also offer trainings and consultancy in the event business. 
We are customer focus and result orientated. We have a team of professionals that stand out in the business of event management in Nigeria. Also, we ensure consistent training of our staff both internal learning and outsource learning.
As a result of our reputation and standard of operations, we have clients that cut across public and private sectors. Our clients include celebrities' events, Annual General Meetings of corporations, Government meetings, academic programs, dignitaries' gatherings and so on.
The market for event management in Nigeria is enormous. It has shifted from a weekend demand to a daily demand as even some events that is reserved for the weekend is now being done during the week days. Our Target market is diversified and there is consistent growth in the business.
There is stiff competition in the business but we have edge over competitors due to standard equipment, professionalism and consistent innovation.
Our Product and Services
Mhi-choice events is doing a variety of services in the event management industry. We have enough equipment that allow us to diversified and gain advantage of making more profit.
Some of our business offering are:
Wedding ceremonies

Corporate events and annual meetings

Government functions

Non-Government events

Training and consulting and so on
Our Vision Statement
To be the number one event planner in Abuja and one of the top three in Nigeria offering first class service with integrity and uniqueness.
Our Mission Statement
To render first class and competitive event management service that helps people, businesses, public and private organizations in planning and managing their events wit a vision to be one of the best three most trusted in Nigeria.
OBJECTIVES
To have an increase of at least 10 % client base every quarter of a year.
To improve consistently improve in quality and beat customer expectation always

To always gain a stronger level of trust and satisfaction from our customers after all transactions.
Our Goal
Be number one event planner in Abuja in the next three years

Be one of the top three event managers in Nigeria in the next five years.

Increase our profit margin to a consistently in each subsequent fiscal year of operation

Operate with best efficiency and effectiveness.
The Motto
Creativity and loyalty
 MARKET ANALYSIS FOR EVENT MANAGEMENT BUSINESS PLAN IN NIGERIA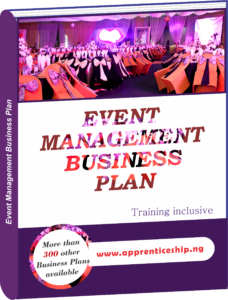 The Market opportunities in the event management industry are getting wider and more diversified every day. Many factors are responsible for this growing demand for event planning professionals in Nigeria today.
Nigerians now want to make their event as standard and memorable as possible. Hence, they give it out to professionals who ensure the events are well carried out to taste.
This is why many event management businesses are now focusing on areas they found most interesting, comfortable and as well profitable for them.  
Two broad customer categorizations can be used to group event management activities. One deals with the events organized by the corporate and government bodies while the  other concentrate on the social events such as wedding ceremonies, birthday parties  and other individual or group parties.
Corporate and Government Market
Corporate and government bodies now need event management professionals than ever before. In fact, according to studies, event management business worldwide has grown at an average of 9% in the past 5 years with tendency of higher growth rate in the future. The growth rate is even higher in Africa and Nigeria in particular where we make our annual corporate and government events really elaborate.
Social Event Market
This segment is on the list of the highest growing business in Nigeria. In the past, social events are reserved for weekends but the narrative has changed in recent times. Today, weddings, birthday parties, Funerals, Concerts, festivals, fund raising etc. are all slated for both weekends and weekdays. Hence the social event management business in Nigeria has shifted from a weekend job to everyday work. On the average, not less than 5 million social events are done in Nigeria on a daily basis with the highest concentration still falls on weekends.
Management and Structure
Management team
Femi Akinyemi- He has 15 years of experience in corporate and government event managements. He been coordinating top notch events and creating relevant network in the field. As a co-founder of mhi choice event, he is poised drive the business to success and set it at the top of most preferred event management companies in Nigeria.  He did post graduate event management apprenticeship in Gremany after his Bachelors degree. in Estate Management at Obafemi awolowo University, Nigeria. He has since receive many training and on the job experience. He is serving currently as the CEO.
Lara Adebiyi  – She is a dedicated and experienced photographer and event decorator. She is our Head of Human of Human Resources at Mhi choice event. She studied at the University of Busines management at the University of Liverpool. Liverpool
 Joseph Ibukunoluwa- She is a chattered account with good knowledge of the use of modern accounting software such as the sage. She manages our financial report, payroll, feasibility report, procurement accountability and so on. She has work experiences that span about 8 years.
FOR THE FULL DETAILS OF THIS BUSINESS PLAN, BUSINESS MODEL CANVAS, MARKETING PLAN AND FINANCIALS: 
Please call our business plan consultants: +

2348147161686
We have a team that can help you write your specific business plans, feasibility studies, Marketing plan,  grant application,  market research, business brand story and so on.
Contact: +

2348147161686
for details
Other Business Plans available:
Auto Repair Business plan in Nigeria
Block Industry Business plan in Nigeria
Sample Bread and Bakery Business Plan in Nigeria
Cassava Business plan in Nigeria 
Catering Business plan in Nigeria
Catfish Business plan in Nigeria 
Cattle rearing Business plan in Nigeria 
Chin chin Business plan in Nigeria 
Cocoa Business plan in Nigeria 
Coca-cola and Soft drinks distribution Business plan
Cooking gas Business plan in Nigeria 
Cosmetology Business plan in Nigeria 
Crèche Business plan in Nigeria
Drycleaning Business plan in Nigeria
Event management Business plan in Nigeria
Fashion Business plan in Nigeria
Feedmill Business plan in Nigeria 
Frozen food Business plan in Nigeria
Furniture Business plan in Nigeria 
Ginger farming Business plan in Nigeria
Goat Business plan in Nigeria
Groceries Business plan in Nigeria
Groundnut oil Business plan in Nigeria 
Herbal Business plan in Nigeria 
Hide and skin Business plan in Nigeria
Honey bee Business plan in Nigeria 
Honey production Business plan in Nigeria
Hotel Business plan in Nigeria
ICT Business plan in Nigeria
Integrated Agriculture Business plan in Nigeria 
Interior Deco Business plan in Nigeria 
Laboratory Business plan in Nigeria 
Leather tanning Business plan in Nigeria
Logistics Business plan in Nigeria
Maize farming Business plan in Nigeria
Medical equipment and supplies Business plan in Nigeria
Mobile Kitchen Business plan in Nigeria 
Moringa Business plan in Nigeria 
Mushroom Business plan in Nigeria
Music equipment Rentals Business plan in Nigeria 
Nylon Production Business plan in Nigeria 
Paint Production Business plan in Nigeria 
Palm oil Business plan in Nigeria 
Paper Recycling Business plan in Nigeria 
Petrol station Business plan in Nigeria 
Pharmacy Business plan in Nigeria 
Pig Farming Business plan in Nigeria 
PKO extraction Business plan in Nigeria 
Plantain chips Business plan in Nigeria 
Plastic bottle recycling Business plan in Nigeria 
Popcorn Business plan in Nigeria 
Poultry Business Plan in Nigeria
printing and multimedia Business plan in Nigeria
Quarry Business plan in Nigeria 
Raw gold Business plan in Nigeria
Restaurant Business plan in Nigeria
Retail Business plan in Nigeria 
Rice milling Business plan in Nigeria 
School Business plan in Nigeria 
Shear butter Business plan in Nigeria
Shoe making Business plan in Nigeria
Soap making Business plan in Nigeria 
Tea and beverages Business plan in Nigeria 
Tissue paper and serviette Business plan in Nigeria 
Transportation Business plan in Nigeria
Travel and tour Business plan in Nigeria
Vegetable farming Business plan in Nigeria
Vocational Business plan in Nigeria
Water production business plan in Nigeria
Yam farming and sales Business plan in Nigeria 
Yougut production and sales Business plan in Nigeria