FURNITURE BUSINESS PLAN IN NIGERIA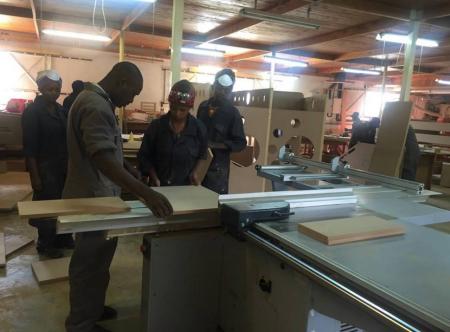 INTRODUCTION
Furniture is a lucrative  business to venture into  today in Nigeria because the demand for furniture and decoration is ever increasing as the tides are changing.
This furniture business plan has a 3 years projection revealing plans and milestones to cover in accordance with the vision and mission of our furniture business .
EXECUTIVE SUMMARY
FEGEOSTOM Furniture is a Limited Liability company owned by Mr. Richard, Mr. Oladele, and Mr. Omotosho.
The company's CEO Mr. Richard is a seasoned entrepreneur, he graduated top of his class of Business Administration from the University of Ibadan. He proceed in his educational pursuit in Lagos business school.
He has well over 10 year of experience as an entrepreneur, a business analyst, business strategist and a consultant.
FEGEOSTOM Furniture enterprise is located in Apata, along Abeokuta road, Ibadan Oyo State, at FEGEOSTOM Furniture enterprise we are open to the use of the latest technology, we promote our products and Services using the internet and special digital marketing tools that fast track awareness and sales.
No doubt our excellent customer service and the range of additional complementary services we offer positioned us as one of the best furniture enterprises in Nigeria today.
We in FEGEOSTOM furniture are passionate in the pursuit of excellence and financial success with uncompromising services and integrity.
We are in this business sector to make a positive mark, FEGEOSTOM is determined that our values and quality of products and services will lead us to enviable heights.  
 FEGEOSTOM furniture ensures that all our customers are given first class treatment whenever they visit our online showroom and also our company to purchase a set of furniture or to make inquiries.
 Moreover,we ensure a one on one relationship with our customers that goes beyond just a customer-seller relationship but have grown to become  a bond that makes retention of customer easy and possible.
Mr. Richard and his team will bring Operational skills, our entrepreneurial knowledge and our customer relation service to make our company stand out.
We are seeking total sum of N5, 000,000 which will be use to secure an office and a showroom space, office equipment, set-up online platform to promote our products and 3 months operating costs furthermore, With this fund injection we anticipate a sales turnover of N18 000,000 and a net income after tax of N25,865,750 within first three years of operation.
Below are the products and services we offer here in FEGEOSTOM:
Home Furniture (tables, chairs, desks, shelves, cabinetry, bed stands and stools)

Soft goods (pillows, tablecloths, bed linens, rugs, carpets),

Lighting (lamps, ceiling fixtures and wall fixtures)

Décor (mirrors, frames, wall hangings and other decorative items).
OUR VISION STATEMENT
To be the number one Furniture supplier in the south-west region of the Country and to be the among the top 5 furniture suppliers in Nigeria
OUR MISSION STATEMENT
To give our customers the best customer services by meeting and exceeding their expectations in our products demand.

To deliver high-quality products, on time and within budget while also providing a fast, and without error ordering system.
SUCCESS FACTORS
FEGEOSTOM Enterprise is will succeed as a result of  the following reasons:
In the market we are, there is no furniture retail store devoted to local manufacturers. We surveyed the local population and the feedback we got is positive saying that they want to really patronize our business, both customers and suppliers inclusive

We are located in a strategic location that is a high –volume area with minimal direct traffic that will make it highly convenient to significant number of passerby each day.

The management team has a track record of success in the furniture business.
MARKETING STRATEGIES FOR FURNITURE BUSINESS PLAN IN NIGERIA

FEGEOSTOM Enterprise will engage social media in a great way to promote the goods and advertise the company's products.

The company will register with an affiliate scheme by harnessing the power of people on the web to promote sales our behalf.

Our company will use aggressive marketing strategy using sales agents, Direct contacts, Partnership with contractors and house agents.

We in FEGEOSTOM will also promote our goods by providing quality furniture, soft goods, lights and décor this will make them tell others about our furnishings.
COMPETITIVE ADVANTAGE
Management policy:  Our  management team have  vast knowledge and experience about furniture this allow us to sell and serve customers in a sophisticated manner better than our competitors.
Locally-made Products: FEGEOSTOM Enterprise have the best local suppliers for its items, we ensure that over 90% of items come from within a 100 miles radius of the store,tourists appreciate this items because they cannot find them where they came from.
Relationships: we build awareness about our store and we establish our product line because we create a type of bond with our customers that strengthens their trust in the products and services we offer.
SWOT ANALYSIS
Strength
Affordable products

Excellent product design

Brand image

Excellent store design
Weakness
High traffic causes some customers not to receive the attention they deserve

Low investment capacity

Poor furniture quality(cracking is the main issue here), susceptibility to borer and fungus
Opportunities
The local economy and population is growing and local market dominance is possible

New customers from online platforms
Threats
The average age of customers is growing with less traffic coming from people with above average income.

 New technologies developed by competitors or the market disruptor for instance, is a serious threat to the industry

Imitation and production of counterfeit and low quality products is also a big threat

.