CATTLE REARING BUSINESS PLAN IN NIGERIA
FEGEOSTOM LIVESTOCK is involved in the business of breeding cows, bulls, oxen, bullocks, steer and calf for their meat, milk and other cattle products. We are registered and licensed in Nigeria as commercial cattle breeders. Fegeostom is located in Nigeria, a country blessed with vast land suitable for agricultural practices, our cattle business inclusive.
While establishing this business, a wealth of knowledge of the owner, as gathered from The Federal University of Agriculture Abeokuta and Animal Production and Health Department of The Federal University of Technology, Akure is employed. Apart from academic knowledge, we also apply practical knowledge gained from the cattle breeders from Northern Nigeria.
Location
Our ranch is located on an acre of land around Sekona in Osun State. We chose this location because of the easy access to clean water, cattle market, feeds, and the safety of our livestock. At Fegeostom, we employ both the ranching and the herding system of rearing the cattle.
This is to exploit the benefits of these two systems while avoiding their disadvantages. Opening and running the ranch is capital-intensive and man-hour demanding, even though it is investor-friendly. To ease this, we've employed herders to take the cattle out for food occasionally. Not only has this reduced the cost, but it has also made our cattle more physically fit.
Our vision statement
To be the largest producer of cattle and its products in Nigeria.
Our mission statement
Breed the finest cattle in Nigeria

Produce and process beef and milk of the highest quality in commercial quantities.

Supply both the local and international market

.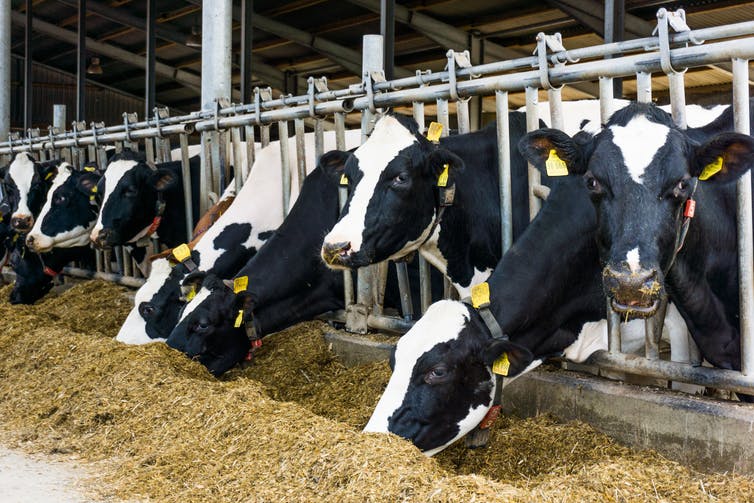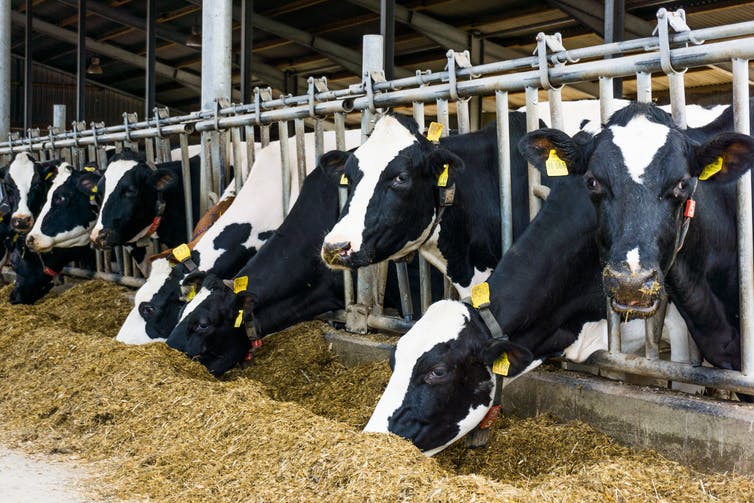 Our business structure
We started small with 50 cows in all and we are expanding from the current 124 cows to 250 cows. We are looking forward to more in the future. We have a mix of West African Dwarf Shorthorn (Muturu), Keteku, and N'dama for meat and Guernsey Sokoto Gudali, Adamawa Gudali, and White Fulani for milk. We are, in essence, a mixed brand cattle producer as we produce both for meat and dairy.
Only qualified, hardworking, animal-friendly, customer-centric, dedicated, and competent hands are employed. Our current structure: the manager, accountant, ranch supervisor, sales and marketing officers, and field employees.
Our strength
The size of our business is a great strength in the sense that only a few have the number of cows we have and our vision to expand will also strengthen the business more. Another strength is that we use technology for the production and processing of cattle products. We are customer-oriented and have competent and dedicated hands to tend to the needs of the cattle.
Weakness
Our major weakness is the capital required for the acquisition and maintenance of machinery for adding value to our cattle product. For example, machine to make canned beef. We are sourcing for funds to overcome this weakness and in a short while, we will overcome this.
Opportunities
Growing markets:  a lot of industries and individuals will source for our products as cow product especially at events, hotels, restaurants, and households.
Threats
The major threat is the government policies that affect the income of our customers. Another is the security challenge and theft of cows.
Market Analysis for Cattle rearing Business plan in Nigeria 
The cattle business is evergreen in Nigeria with a market always ready. Households represent a large percentage of the market we serve. They are the end consumer of cattle produce such as meat (beef), milk, and skin. Other markets are the businesses that rely on agricultural produce for production. Examples are milk, yoghurt, cheese-making factories, skins-processing factories (for leather products like bags and belts), and butchers.
Our main competitive advantage is effective and reliable cattle-rearing processes that enable us to produce and process cattle products at a competitive price. While our price is competitive, our standard is not compromised. An all-round standard is ensured in the processes involved with our business.  We have a good network of suppliers and customers because we build and maintain an excellent relationship.
We are improving on our current marketing strategies. The modified marketing strategies are as follows:
Advertisement on TV, Radio, social media, agricultural magazine, and other agro-allied platforms

Production and sending of our magazine, brochure, introductory letter and product catalogue to hotels, restaurants, and agricultural merchants.

Organize and attend Agricultural Expos.

Direct marketing.

Mouth referrals from satisfied customers.
Sales forecast of Cattle rearing Business plan in Nigeria 
Our products: Meat, milk, Hide and skin, bones, hooves, cow offal, and cow dung.
The cattle takes an average of 2 to 3 years to grow to maturity. As we only rear the best breed of cows, our fully grown cows weigh an average of 500kg (we have recorded 604kg). The price of cow fluctuates with a high price in the festive seasons. A cow typically cost between 150, 000 naira to 200,000 naira. A better price may be gotten when it is processed. This is a sales projection using the previous year's sales as a yardstick.
Profit in the first year (after-tax and all other overhead costs): 1,455,000 naira
Profit in the second year with the replacement of the sold cows: 2,700,000 naira.
A 13 per cent increase in profit is expected annually.
Financial projections and costing of Cattle rearing Business plan in Nigeria 
The expense that takes priority is the expense that will be incurred on the expansion of the ranch. Another cost is the cost of the new hands that will help to cater for the animals. The cost of running the ranch also significantly increases as the number of cow increases. A total of 6 million naira is estimated to be needed for the expansion.
A sum of 4 million has been sourced from the business profit and the owner. 2 million naira is needed to meet up with the estimated amount.
Cattle rearing in Nigeria is a good business that could result in a big-time profit as long it is given utmost attention and dedication. It sure requires a lot of time for management and it is capital intensive but its reward is also great.
Why you should consider cattle rearing Business in Nigeria
Agricultural business is one of the few businesses that touch the entire populace. Cattle rearing business, which is a subset of Agricultural Business, is a business that serves almost all Nigerians. The fact is, Nigerians have gotten so used to beef and other cattle products that it is consumed daily. This is evident in the choices made by restaurants, event planners and households. Some of the products are beef, cow leg, cow skin, and milk.
FOR THE FULL DETAIL OF THIS BUSINESS PLAN, BUSINESS MODEL CANVAS, MARKETING PLAN AND FINANCIALS: 
Please call our business plan consultants: +

2348147161686

, apprenticeshipafrica@gmail.com
We have a team that can help you write your specific business plans, feasibility studies, Marketing plan,  grant application,  market research, business brand story and so on.
Contact:

2348147161686

for details
Other Business Plans available:
Auto Repair Business plan in Nigeria
Block Industry Business plan in Nigeria
Sample Bread and Bakery Business Plan in Nigeria
Cassava Business plan in Nigeria 
Catering Business plan in Nigeria
Catfish Business plan in Nigeria 
Cattle Rearing Business plan in Nigeria 
Chin chin Business plan in Nigeria 
Cocoa Business plan in Nigeria 
Coca-cola and Soft drinks distribution Business plan
Cooking gas Business plan in Nigeria 
Cosmetology Business plan in Nigeria 
Crèche Business plan in Nigeria
Drycleaning Business plan in Nigeria
Event management Business plan in Nigeria
Fashion Business plan in Nigeria
Feedmill Business plan in Nigeria 
Frozen food Business plan in Nigeria
Furniture Business plan in Nigeria 
Ginger farming Business plan in Nigeria
Goat Business plan in Nigeria
Groceries Business plan in Nigeria
Groundnut oil Business plan in Nigeria 
Herbal Business plan in Nigeria 
Hide and skin Business plan in Nigeria
Honey bee Business plan in Nigeria 
Honey production Business plan in Nigeria
Hotel Business plan in Nigeria
ICT Business plan in Nigeria
Integrated Agriculture Business plan in Nigeria 
Interior Deco Business plan in Nigeria 
Laboratory Business plan in Nigeria 
Leather tanning Business plan in Nigeria
Logistics Business plan in Nigeria
Maize farming Business plan in Nigeria
Medical equipment and supplies Business plan in Nigeria
Mobile Kitchen Business plan in Nigeria 
Moringa Business plan in Nigeria 
Mushroom Business plan in Nigeria
Music equipment Rentals Business plan in Nigeria 
Nylon Production Business plan in Nigeria 
Paint Production Business plan in Nigeria 
Palm oil Business plan in Nigeria 
Paper Recycling Business plan in Nigeria 
Petrol station Business plan in Nigeria 
Pharmacy Business plan in Nigeria 
Pig Farming Business plan in Nigeria 
PKO extraction Business plan in Nigeria 
Plantain chips Business plan in Nigeria 
Plastic bottle recycling Business plan in Nigeria 
Popcorn Business plan in Nigeria 
Poultry Business Plan in Nigeria
printing and multimedia Business plan in Nigeria
Quarry Business plan in Nigeria 
Raw gold Business plan in Nigeria
Restaurant Business plan in Nigeria
Retail Business plan in Nigeria 
Rice milling Business plan in Nigeria 
School Business plan in Nigeria 
Shear butter Business plan in Nigeria
Shoe making Business plan in Nigeria
Soap making Business plan in Nigeria 
Tea and beverages Business plan in Nigeria 
Tissue paper and serviette Business plan in Nigeria 
Transportation Business plan in Nigeria
Travel and tour Business plan in Nigeria
Vegetable farming Business plan in Nigeria
Vocational Business plan in Nigeria
Water production business plan in Nigeria
Yam farming and sales Business plan in Nigeria 
Yougut production and sales Business plan in Nigeria