BARBING SALON BUSINESS PLAN IN NIGERIA
FEGEOSTOM barbing salon is an exquisite beauty parlor located in the densely populated, residential district of Ogun State – Mowe to be precise. Although we are a growing business, we are careful enough to offer our customers an ideal environment that is serene and entertaining, so they can experience maximum relaxation as we provide our excellent service to them.
We are not only concerned about cutting or trimming the hair of our customers but we are interested in bringing out the beauty in them- through our excellent work of art. Moreover, our services are not limited to the men folks. We also provide services for women and children.
Our location is deliberately planned and strategic, providing an excellent advantage for our business. Mowe is primarily residential and about 90% of the population prefers to have their haircut or hair treatment within their residential area. It makes them more relaxed and gives them the opportunity for a quick overall clean up e.g. bathing. This is the major reason why we decided to have our first location in Mowe. Also, the real estate cost is still relatively cheap in this region.
We have plans to expand and extend our business beyond what it is now and we also hope to have branches in at least 4 south-western tertiary institutions.
Goal
To be the number one barbing salon in our locality through excellent service, ideal environment and future extension to other regions.
Objectives
To provide quality service to our customers

To provide a comfortable, relaxing and entertaining atmosphere for our customers

To establish a 100% customers loyalty.

To have a percentage increase in customer base by at least 35% annually through premium service and word of mouth referral.

To maintain a fair price for our services.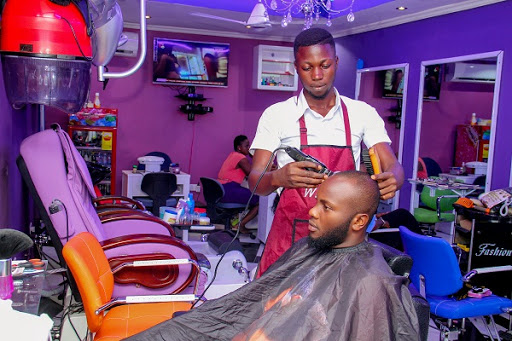 Products and services
Hair cut for both sexes and for all age groups

Hair treatment and grooming

Dying and coloring

Beard shaving, shaping, and treatment

Home service
Why you should be patronize us
We are in an easily accessible location with good parking space, our environment is comfortable and entertaining, our services are top-notch and our prices fair.
Location
The importance of our location cannot be over-emphasized in any business. We are aware of the fact that the success of a salon business depends on how easy it is to reach it. That is why we are deliberate about our location. Our location is so strategic such that we are visible to passers-by and easily accessible by vehicles with enough parking space. We believe in creativity; therefore, we made our shop so beautiful and attractive to get the attentions of passers-by.
Competitive strategy for  Barbing salon Business plan in Nigeria
We are not a regular beauty shop. We offer top-quality barbing and grooming services to our clients and we also incorporate entertainment for our clients in our services. We serve as a mini viewing center due to the fact that 80% of our clients are football lovers and we do not charge for this. Our shop is large enough to house 15 people comfortably at a time and we do not restrict this access to our clients only.
This bonus has been very effective in growing our customer base. Additionally, our customer service is top-notch. We maintain a culture of respect and politeness for everyone that visits our shop whether they need our services or not. We are able to achieve this by employing well-groomed and educated individuals.
Equipment for Barbing salon Business plan in Nigeria
Stand-by generator, standard rotatable barber chairs, quality clippers, wall mirrors, cover cloths, cosmetics, air conditioners, standing fan, plasma TV, plastic chairs and satellite.
Our current operational cost is about 800,000 naira including goods that are being sold.
However, we hope to expand beyond our current status. We aspire to fully incorporate a standard viewing enter which we can be monetized alongside our current business. We also look forward to having a game center (majorly table tennis and PES). These additions will help us generate more profit and increase our customer base.
The cost of expansion requires a sum of N15 million. This includes the cost of purchasing land and building our own facility. This is to eliminate rental cost and ensure our sustainability in the region in which we are known. The remaining funds will be used to employ more competent hands and get the necessary equipment.
Marketability
Presently, our quality service and uniqueness have been an excellent market strategy. However, as we expand, we intend to optimize social media marketing (SMM) in order to create awareness beyond our locality. We believe that our uniqueness in incorporating other businesses such as viewing and gaming centers to our beauty shop will enhance curiosity and social media is an effective platform to showcase our uniqueness. In addition, Social media marketing will allow us to easily and effectively promote our business beyond Mowe axis to other parts of the state and by extension, Lagos.
Expected profit
All things being equal, we should generate a profit of 8 million from various services provided in the first year with at least a 30% increase in subsequent years.
Management experience
Our management team has technical and practical experience in the beauty industry and certifications in business management. Therefore, we are capable of handling other arms of the business effectively: viewing and gaming.
Why you should invest in Barbing Salon Business Plan in Nigeria.
The beauty industry will ever remain one of the most profitable industries in Nigeria. With almost half of the population made up of youths who obviously are appearance conscious. You can be certain of making a good profit if you venture or invest in a business such as barbing. Moreover, a barbing salon is not limited to hair cut but involves a variety of beauty services.
In addition, FEGEOSTOM intends to extend her services beyond the salon by including fun and entertainment which will serve as complimentary profit sources. With our competence and strive for excellence, you can be certain about having good returns if you partner with us.
FOR THE FULL DETAILS OF THIS BUSINESS PLAN, BUSINESS MODEL CANVAS, MARKETING PLAN AND FINANCIALS: 
Please call our business plan consultants: +2348147161686
We have a team that can help you write your specific business plans, feasibility studies, Marketing plan,  grant application,  market research, business brand story and so on.
Contact: +2348147161686 for details
Other Business Plans available:
Auto Repair Business plan in Nigeria
Barbing salon Business plan in Nigeria
Block Industry Business plan in Nigeria
Sample Bread and Bakery Business Plan in Nigeria
Cassava Business plan in Nigeria 
Catering Business plan in Nigeria
Catfish Business plan in Nigeria 
Cattle rearing Business plan in Nigeria 
Chin chin Business plan in Nigeria 
Cocoa Business plan in Nigeria 
Coca-cola and Soft drinks distribution Business plan
Cooking gas Business plan in Nigeria 
Cosmetology Business plan in Nigeria 
Crèche Business plan in Nigeria
Drycleaning Business plan in Nigeria
Event management Business plan in Nigeria
Fashion Business plan in Nigeria
Feedmill Business plan in Nigeria 
Frozen food Business plan in Nigeria
Furniture Business plan in Nigeria 
Ginger farming Business plan in Nigeria
Goat Business plan in Nigeria
Groceries Business plan in Nigeria
Groundnut oil Business plan in Nigeria 
Herbal Business plan in Nigeria 
Hide and skin Business plan in Nigeria
Honey bee Business plan in Nigeria 
Honey production Business plan in Nigeria
Hotel Business plan in Nigeria
ICT Business plan in Nigeria
Integrated Agriculture Business plan in Nigeria 
Interior Deco Business plan in Nigeria 
Laboratory Business plan in Nigeria 
Leather tanning Business plan in Nigeria
Logistics Business plan in Nigeria
Maize farming Business plan in Nigeria
Medical equipment and supplies Business plan in Nigeria
Mobile Kitchen Business plan in Nigeria 
Moringa Business plan in Nigeria 
Mushroom Business plan in Nigeria
Music equipment Rentals Business plan in Nigeria 
Nylon Production Business plan in Nigeria 
Paint Production Business plan in Nigeria 
Palm oil Business plan in Nigeria 
Paper Recycling Business plan in Nigeria 
Petrol station Business plan in Nigeria 
Pharmacy Business plan in Nigeria 
Pig Farming Business plan in Nigeria 
PKO extraction Business plan in Nigeria 
Plantain chips Business plan in Nigeria 
Plastic bottle recycling Business plan in Nigeria 
Popcorn Business plan in Nigeria 
Poultry Business Plan in Nigeria
printing and multimedia Business plan in Nigeria
Quarry Business plan in Nigeria 
Raw gold Business plan in Nigeria
Restaurant Business plan in Nigeria
Retail Business plan in Nigeria 
Rice milling Business plan in Nigeria 
School Business plan in Nigeria 
Shear butter Business plan in Nigeria
Shoe making Business plan in Nigeria
Soap making Business plan in Nigeria 
Tea and beverages Business plan in Nigeria 
Tissue paper and serviette Business plan in Nigeria 
Transportation Business plan in Nigeria
Travel and tour Business plan in Nigeria
Vegetable farming Business plan in Nigeria
Vocational Business plan in Nigeria
Water production business plan in Nigeria
Yam farming and sales Business plan in Nigeria 
Yougut production and sales Business plan in Nigeria