SACHET AND BOTTLED WATER PRODUCTION BUSINESS PLAN IN NIGERIA
STOM WATERS is a subsidiary of FEGEOSTOM ENTERPRISES involved in the commercial production of essential mineral rich, clean, pure natural spring water filled in attractive clear PET bottles and nylon sachet packages to reach a wide cadre of economic customer segment.  
We also have our mineral water specials. We are fully incorporated company located at Sunview Garden Arepo Lagos-Ibadan Express way Lagos. We have a vast customer network and market reach.
"Water no get enemy", that's the popular colloquial for the importance water plays in humanity.  Nowadays it's the pure drinkable water that has no enemy; as unclean water can be the greatest enemy of any man's existence.
The world of today has more health conscious people than ever before, most people are now very conscious of what they drink, and from where their drink is produced. We at STOM WATERS take a careful water treatment and filtration process using the best osmotic techniques and in addition we take natural spring waters which contain needed minerals for the body.
The Nigerian market is filled with all kind of packaged drinkable water, 85% of which are highly chlorinated, wrongly packaged, staled water, produced from poorly screened places, and merely money conscious businesses, who think "water is water".
The high cases of typhoid fever, diarrhea, and all kind of impure water related diseases have made us. The National Agency For Food and Drug Administration and Control (NAFDAC) also reports how water business generates over 9billion naira daily, as people have grown to depend more on safer water sources, and the market keeps increasing due to increased population growth.
STOM Waters is playing part in this growing market with its own market edge. We sell to homes, offices, schools, high institutions and in wholesales to traffic sellers; we are depending on reduced price strategy and the perfectness of our water in quality and attractive package as edge. We have done our market research, we discovered over 5million people ply the different locations we have marked daily.
The Sango-oshodi, Agege-Oko Oba, Mowe-Berger, are our major points.
The business is leveraging on the experience of the administrators, Asaboro James is the owner of STOM Waters and brings his over 20years of working with Nestling Company as sales executive into the business, coupled with his experience and vast market knowledge is the choice of management team who are equally experienced in salient departments of a standard water bottling company, sales and delivery department, Operations manager, Admin Manager and Route driver.
We are aware that we are small in size compared to the big names like Nestle, Eva, Bigi, and likes who have a vast market reach. We have done our market research and we do have a disrupt strategy that we give us a good stand in the market and offset the big names in many places.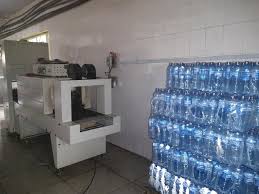 Our Vision
Our vision is to establish standard bottled and sachet water Production Company of international standard in all ramifications with a vast market reach.
Our Mission
Our mission is to be at the fore front in market disrupt strategy, vast reach and bringing mineral rich and cleanest water to all economic cadre of the society

We want to have gained so much recognition in this industry in 5years time, becoming a household name and ranking with the best in this field.
 COST OF SET-UP AND EQUIPMENT NEEDED
Get this business plan for full details on sachet and bottled water production business up-to-date cost analysis.
Basic Equipments Needed To Set-Up a Sachet Pure Water Factory and prepare Sachet and Bottled Water Production Business Plan in Nigeria
Borehole

Five 5000 litres reservoir

25KV generator N40,000

Ozonator

Distiller

3 pairs of industrial filters

Industrial UV air sterilizer

3-4 Micro filter with cartridges

Boiling machine

Pick-up truck

2 tricycle vans

Heavy duty diesel generator

Rolls of printed cellophane nylon

A liquid filling machine

Automatic packaging machine

Filling and capping machine (bottle session)

PET blowing machine/

Automatic bottle rinser

Automatic shrink packing machine

Online Batch number

SACHET AND BOTTLED WATER PRODUCTION BUSINESS PLAN IN NIGERIA
MARKET ANALYSIS OF SACHET AND BOTTLED WATER PRODUCTION BUSINESS PLAN IN NIGERIA
The sachet water/bottled water business is in high demand, approximately 100-120million of these products are consumed daily, and these quotes will definitely be on the upward rise. The evidence is seen on the streets of cities, towns, villages.
We conducted a random survey around some streets of Lagos, and our finding revealed that the water business tops the competition with other drinkable foods in the market, hence the reason why 95% of juice/soda Drink Companies also produce water.
More than 20million people commute the street of Lagos daily; the water production still not met the demand, most especially mineral waters from natural springs. Most natural spring water products' prices are on the high side, STOM waters, have a potential target market of more than 5million people daily, because of the growing demand for mineral water.
Mineral waters products are still very low in numbers being produced in the market against the obvious demand for it, we are lucky to have discovered a natural spring where we tap our water from. We have the normal water which is treated and sold as sachet, while the
Reasons why you should consider starting pure water business
The raw materials water can be gotten freely

The demand is super high and relatively consistent
iii. You can remember
STOM WATERS produces and bottles the 75cl bottles and seal them into packs for sales and distribution.  
The marketing budget for the 1st year is N4,000,000, 2nd year will be N6,000,000 while that of the 3rd year will be N7,500,000 this budget will guide the company to create strategies that will enable the company to reach a sizable market area. All funding for marketing activities will be generated from the business as earnings from operations, not from start-up capital.
 For more detailed, concise and up-to-date market analysis, sales and marketing request for our full detailed sachet/bottled water production business plan.
 PRODUCT
Bottled Drinking Water
To take advantage of this expanding market for drinking water, Purity Bottled Water has been established to provide home and office delivery of bottled water in Mushin Lagos state and its environs. After months of extensive industry and market research, the company has developed a solid business plan to enter the market for bottled water. Purity will generate revenue as a result of the sales of her bottled.
Other Products
FINANCIAL ANALYSIS OF SACHET AND BOTTLED WATER PRODUCTION BUSINESS PLAN IN NIGERIA
We seek for 6million naira funding which we plan to pay back in 3years, with a moratorium of 3months. The financial session reveals over 19,500,000 naira within first 24months in revenue. The net profit is calculated as 7,263,000 after gross profit has been deducted. We have made analysis in our financial session, which shows the cost analysis, break even ratio, balance sheet, sales forecast
FOR THE FULL DETAIL OF THIS BUSINESS PLAN, BUSINESS MODEL CANVAS, MARKETING PLAN AND FINANCIALS: 
Please call our business plan consultants:+2348147161686 info@apprenticeship.ng
We have a team that can help you write your specific business plans, feasibility studies, Marketing plan,  grant application,  market research, business brand story and so on.
Contact: +2348147161686 for details
Other Business Plans available:
Auto Repair Business plan in Nigeria
Block Industry Business plan in Nigeria
Sample Bread and Bakery Business Plan in Nigeria
Cassava Business plan in Nigeria 
Catering Business plan in Nigeria
Catfish Business plan in Nigeria 
Cattle rearing Business plan in Nigeria 
Chin chin Business plan in Nigeria 
Cocoa Business plan in Nigeria 
Coca-cola and Soft drinks distribution Business plan
Cooking gas Business plan in Nigeria 
Cosmetology Business plan in Nigeria 
Crèche Business plan in Nigeria
Drycleaning Business plan in Nigeria
Event management Business plan in Nigeria
Fashion Business plan in Nigeria
Feedmill Business plan in Nigeria 
Frozen food Business plan in Nigeria
Furniture Business plan in Nigeria 
Ginger farming Business plan in Nigeria
Groceries Business plan in Nigeria
Groundnut oil Business plan in Nigeria 
Hair Salon Business plan in Nigeria
Herbal Business plan in Nigeria 
Hide and skin Business plan in Nigeria
Honey bee Business plan in Nigeria 
Honey production Business plan in Nigeria
Hotel Business plan in Nigeria
ICT Business plan in Nigeria
Integrated Agriculture Business plan in Nigeria 
Interior Deco Business plan in Nigeria 
Laboratory Business plan in Nigeria 
Leather tanning Business plan in Nigeria
Logistics Business plan in Nigeria
Maize farming Business plan in Nigeria
Medical equipment and supplies Business plan in Nigeria
Mobile Kitchen Business plan in Nigeria 
Moringa Business plan in Nigeria 
Mushroom Business plan in Nigeria
Music equipment Rentals Business plan in Nigeria 
Nylon Production Business plan in Nigeria 
Paint Production Business plan in Nigeria 
Palm oil Business plan in Nigeria 
Paper Recycling Business plan in Nigeria 
Petrol station Business plan in Nigeria 
Pharmacy Business plan in Nigeria 
Pig Farming Business plan in Nigeria 
PKO extraction Business plan in Nigeria 
Plantain chips Business plan in Nigeria 
Plastic bottle recycling Business plan in Nigeria 
Popcorn Business plan in Nigeria 
Poultry Business Plan in Nigeria
printing and multimedia Business plan in Nigeria
Quarry Business plan in Nigeria 
Raw gold Business plan in Nigeria
Restaurant Business plan in Nigeria
Retail Business plan in Nigeria 
Rice milling Business plan in Nigeria 
School Business plan in Nigeria 
Shear butter Business plan in Nigeria
Shoe making Business plan in Nigeria
Soap making Business plan in Nigeria 
Tea and beverages Business plan in Nigeria 
Tissue paper and serviette Business plan in Nigeria 
Transportation Business plan in Nigeria
Travel and tour Business plan in Nigeria
Vegetable farming Business plan in Nigeria
Vocational Business plan in Nigeria
Water production business plan in Nigeria
Yam farming and sales Business plan in Nigeria 
Yougut production and sales Business plan in Nigeria