NURSERY, PRIMARY AND SECONDARY SCHOOLS BUSINESS PLAN IN NIGERIA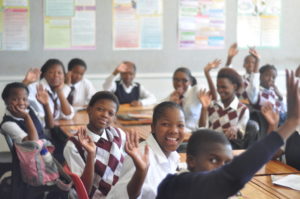 Fegeostom group of schools is located in a serene environment and have the best teachers with more than 2years experience in the teaching profession.
We don't just train a child to be academically proficient, we also impart good morals and social values in them to complement the parents' efforts at respective homes.
Furthermore, we have updated teaching guides and the curriculum for our children. We also have a standard library, computer and ICT library, an art and craft studio and a special class for special children.
We also understand that play is a tool for a child's physical, mental and social development. Therefore, we have provided a football field, table tennis spot, basket-ball field and a tennis court for sporting activities. See-saw, swing, slide and others recreational activities are also available.
When, by chance, our pupils fall ill, we care for them in our sick bay. Our scheduled time-table for subjects is from 8am – 11:30am with a 45 minutes' break and another from 12:15pm-1:45pm. Lessons begin by 2pm and ends by 3pm (Monday-Thursdays) while the school closes by 1pm on Fridays.
Location
Unlike most schools, we want our school environment to be in tune with nature with natural canopies (trees) where our kids can sit while they enjoy the view. It is also important that it is easily accessible and distant from everyday noises that can arise from vehicular engines. As such, it is located in GRA, Benin City which has abundance of trees, good road networks and a few vehicular movements around. Government Residential Area, Benin City is a strategic area because it's a relatively quiet and clean environment.
Our mission and vision
We have made it plain and simple to ensure that our children get only the best and quality education and services. Our services are educationally and morally driven. With our methods, we want to transform our pupils into people who can solve problems when they go further in life.
Equipment required for Nursery, Primary and Secondary Schools Business Plan in Nigeria
We aren't the only organization that offers educational services as there are other schools available and owned by private and public personalities. However, what we offer in our schools supersedes others. So, you could say our competition is minimal.
We offer amazing services to our parents and children to enable them to get topmost satisfaction and sell us to other parents who might want to bring their kids to our school. Our services don't only include basic education for children, we also expose them to hand skills like art and craft, music and computer skills because we are concerned with the all-round development of the child. We have a flexible tuition system that doesn't place a heavy burden on the parents or guardians, and it allows them to pay in instalments to give their child or ward the best education.
We are building our services as a foundation for a child's educational growth, but we intend to go further by including a secondary session where we can monitor the children until they are fit to face tertiary education.
Furthermore, we understand that there are unique talents that lie dormant in them, therefore we will be including chess training, computer coding, comics, writing, music studio and art gallery in our extra-curricular activities. We will also allow them to engage in quiz competitions and debates.
Getting a standard environment for the expansion may cost us N25 million, purchasing equipment for the classes will cost as much as N7.5 million. Staff allowances and payment is one of our topmost priority as we intend to appreciate them monthly with a budget of N1.8 Million per month.
Management for Nursery, Primary and Secondary Schools Business Plan in Nigeria
We have academic and non-academic staff working in the school which include:
Mrs. Grace Adeola is the head teacher of the primary school. She attended a college of education in Benin City before going on to acquire a bachelor in English Education from the University of Benin.  Prior to her arrival into the school, she had taught in several public and private schools in Benin city. She currently teaches English Language and verbal aptitude.
Mr. Sampson Thomas is one of the outstanding teachers in the school. He has a B. Sc degree in Mathematics from UNIBEN and his teaching style makes mathematics and quantitative reasoning interesting for our pupils. They love him and respond to him very well whenever he teaches them.
Mrs, Ruth Ogbebor has a NCE and B. Sc degree in integrated science education from the Federal College of Education, Ekiadolor and UNIBEN Benin City. She currently teaches our pupils Basic Science & Technology and Computer Science.
Mrs Angela Okeke is in charge of Home Economics and Home Management. She has a B.Sc. degree in Home Economics Education from UNIBEN.  She is responsible for teaching the students things to observe and do in the home.
Mrs. Pat Thompson is a trained and registered nurse who takes care of our children in the sick bay.
Mr. Charles Ighodaro is the art and craft instructor. He is a graduate of fine and applied arts from UNIBEN and currently runs a personal art studio.
Mr Philip Anslem is the sports master, game instructor and responsible for teaching the pupils about physical and health education. He has a degree in physical and health education from UNIBEN.
Mr Patrick Amos is the school principal. He is also a part time teacher and a retired lecturer from the University of Benin. A graduate of economics and statistics education from the same university.
Miss Osayi Benjamin is the school accountant. She is a graduate of accounting from Delta State University. Abraka and a registered accountant from the institute of chartered accountant of Nigeria
Mama Lara Ogbomo oversees the school cleaners.
Fegeostom nursery and primary school is easily accessible and quite distant from the busy traffic of the city. It has a lot of trees and shade such that it will limit the kids' exposure to intense heat and radiation from the sun when they play. Our parents and guardians are rest assured that they are taking their children to a secure environment because there is adequate provision for all concerns. We guarantee you that children love everything here. Invest in our group of schools and you will never regret your decisions.
FOR THE FULL DETAIL OF THIS BUSINESS PLAN, BUSINESS MODEL CANVAS, MARKETING PLAN AND FINANCIALS: 
Please call our business plan consultants: +2348147161686, info@apprenticeship.ng
We have a team that can help you write your specific business plans, feasibility studies, Marketing plan,  grant application,  market research, business brand story and so on.
Contact: +2348147161686 for details
Other Business Plans available:
Auto Repair Business plan in Nigeria
Block Industry Business plan in Nigeria
Sample Bread and Bakery Business Plan in Nigeria
Cassava Processing Business Plan in Nigeria
Catering Business plan in Nigeria
Catfish Business plan in Nigeria 
Cattle rearing Business plan in Nigeria 
Chin chin Business plan in Nigeria 
Cocoa Business plan in Nigeria 
Coca-cola and Soft drinks distribution Business plan
Cooking gas Business plan in Nigeria 
Cosmetology Business plan in Nigeria 
Crèche Business plan in Nigeria
Drycleaning Business plan in Nigeria
Event management Business plan in Nigeria
Fashion Business plan in Nigeria
Feedmill Business plan in Nigeria 
Fish farming and processing Business plan in Nigeria
Frozen food Business plan in Nigeria
Furniture Business plan in Nigeria 
Ginger farming Business plan in Nigeria
Goat Business plan in Nigeria
Groceries Business plan in Nigeria
Groundnut oil Business plan in Nigeria 
Hair Salon Business plan in Nigeria
Herbal Business plan in Nigeria 
Hide and skin Business plan in Nigeria
Honey bee Business plan in Nigeria 
Honey production Business plan in Nigeria
Hotel Business plan in Nigeria
ICT Business plan in Nigeria
Integrated Agriculture Business plan in Nigeria 
Interior Deco Business plan in Nigeria 
Laboratory Business plan in Nigeria 
Leather tanning Business plan in Nigeria
Logistics Business plan in Nigeria
Maize farming Business plan in Nigeria
Medical equipment and supplies Business plan in Nigeria
Mobile Kitchen Business plan in Nigeria 
Moringa Business plan in Nigeria 
Mushroom Business plan in Nigeria
Music equipment Rentals Business plan in Nigeria 
Nursery, Primary and Secondary Schools Business Plan in Nigeria
Nylon Production Business plan in Nigeria 
Paint Production Business plan in Nigeria 
Palm oil Business plan in Nigeria 
Paper Recycling Business plan in Nigeria 
Petrol station Business plan in Nigeria 
Pharmacy Business plan in Nigeria 
Pig Farming Business plan in Nigeria 
PKO extraction Business plan in Nigeria 
Flavoured Plantain chips Business plan in Nigeria 
Plastic bottle recycling Business plan in Nigeria 
Popcorn Business plan in Nigeria 
Poultry Business Plan in Nigeria
printing and multimedia Business plan in Nigeria
Quarry Business plan in Nigeria 
Raw gold Business plan in Nigeria
Restaurant Business plan in Nigeria
Retail Business plan in Nigeria 
Rice milling Business plan in Nigeria 
School Business plan in Nigeria 
Shear butter Business plan in Nigeria
Shoe making Business plan in Nigeria
Soap making Business plan in Nigeria 
Tea and beverages Business plan in Nigeria 
Tissue paper and serviette Business plan in Nigeria 
Transportation Business plan in Nigeria
Travel and tour Business plan in Nigeria
Vegetable farming Business plan in Nigeria
Vocational Business plan in Nigeria
Water production business plan in Nigeria
Yam farming and sales Business plan in Nigeria 
Yougut production and sales Business plan in Nigeria