FISH FARMING AND PROCESSING BUSINESS PLAN IN NIGERIA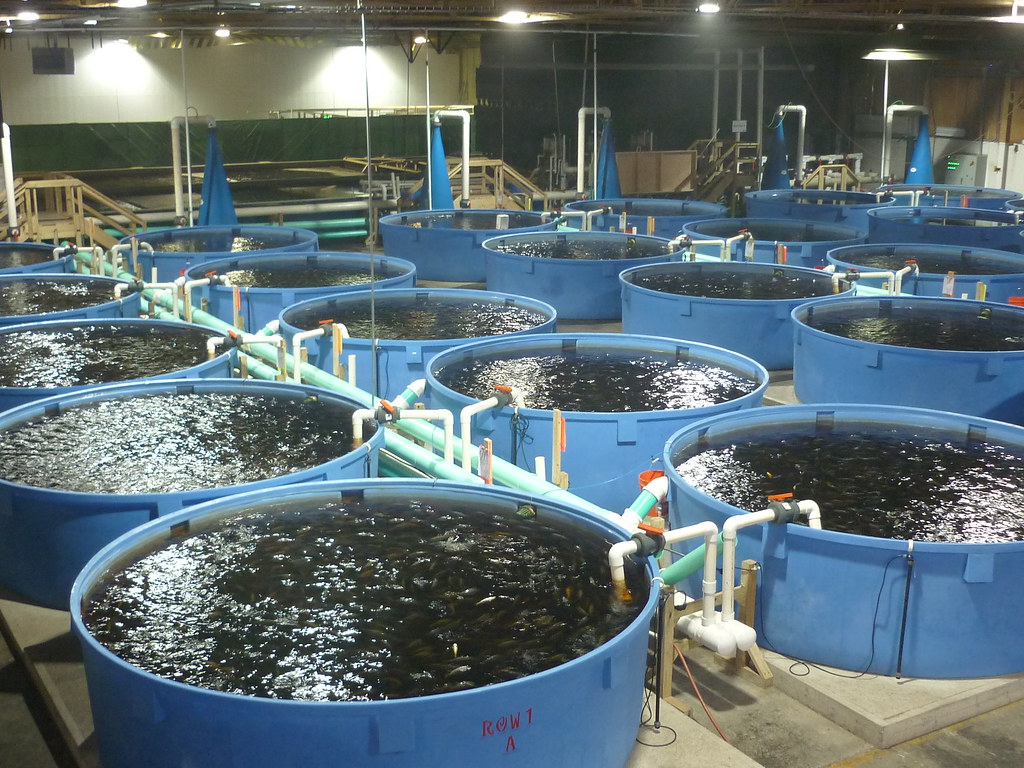 FEGEOSTOM fish farm is Located in Iguoriakhi community of Ovia South West Local Government Area of Edo State, Benin City. Though there are other fish farms around in Benin city, ours is unique because we want to be able to offer fresh, processed and contaminant-free fish products to our consumers.  
In rearing fish and selling them, we are  concerned with the state of the fishes as well, making sure they are nourished and well taken care of.
As you may be aware that fishes are great sources of proteins, minerals and essential fatty acids, we are selecting the best food processing techniques to ensure that a greater percentage of the nutrients are retained in the processed products.
Our location is a sparsely populated area with lots of available land for erecting the fish farm and siting a bore hole. It has a nearby water way to easily channel the wastewater into. Its low human population density means there are low levels of pollution and the air is well filtered by the rich abundance of natural vegetation.
There's also less operation of machinery with a moderate supply of electricity and a good road assess. Our fishes don't have any issues with environmental poisoning.
We always have positive reviews when consumers use our products, and these have been our marketing strategy. As our customers have been able to sell us out through word of mouth, we are also available on social media where we engage our customers more to serve them better and market our products.
You can contact us @ Fegeostom fish farm on Facebook, twitter and Instagram. We have the vision of reaching more customers and expanding our services to major towns and cities like Lagos, Abuja and Port Harcourt while also attracting investors.
Our GOAL
To become the top producer of fresh and processed fish products in the region, while reducing the effect of excessive fishing activities on the natural aquatic habitats.
Objectives
To provide healthy and affordable fish products for consumption

Prevent life-long health effect of consuming aquatic product from polluted waters

Become a leading manufacturer of fresh and well-processed fish

Build a strong reputation and customer base through quality products

To serve as an alternative source of fish
Products
Catfish

Tilapia Fish

Croker Fish

Sardine

Hake (Merluza)
Services
Offering training to fish farmers

Sales of fish feeds

Processing of dried fish

Storage and marketing of fish products
Why should you patronize our products and services?
We offer the best and modernized way of conventional fish farming. Our fish processing uses a top-notch technology that allows the product to retain its nutritive value, free from chemicals and environmental pollutants that can impact consumer health's negatively.
Location
Most fish farms are sited in towns where there are poor drainages, such that stenches emanate from the wastewater and cause air pollution and discomfort to the town's residents.  The fishes may not get clean air as the atmosphere is polluted with gases from vehicles and generators.
On the contrary, our location is strategically chosen to avoid these problems such that the area is sparsely populated, far away from human habitation and allow less vehicular movement.
The wastewater can easily be drained, and the stench controlled such that we don't pose a health risk to the community. The abundance of natural vegetation and less operation of engines provide a clean, refreshing atmosphere. Hence, our fishes are free from contamination.
Competitive advantage for fish farming and processing business plan in Nigeria
What we offer exceeds what you would find in other fish farms, our services are top notch.  We do not use firewood or expose our products to high intensity of smoke contaminants. Our facilities are spacious and we do not congest the fish pond with fingerlings to ensure the fishes do not infect each other with whatever gems they might have acquired. We also make sure to use the best breeds of fishes so that they can grow and mature in due time.
We don't run out supply because we have our own hatchery for the fishes and customers can get free samples of our product whenever they come to patronize us.  We also have equipment that enables us to monitor the water environmental conditions such that it is almost like the conditions present in natural water bodies. We maintain a team of qualified experts in the field of business and fishery to deliver the best and succeed as a company.
Equipment for fish farming and processing business plan in Nigeria
Our equipment includes:
Bore hole for water supply

Fishponds for the fishes

Drainage pipes connected to ponds to drain the wastewater

Temperature, pH and salinity monitor to check the temperature, acidity and salt requirement of the fishpond.

Hatchery for the fish eggs.

standby generator.

Drying ovens and refrigerators, as well as brand packaging materials.
As an emerging business, we also plan on reaching many customers, while also exporting our products to neighboring states and cities. We also plan on organizing seminars and workshops to train prospective fish farmers on fish farming and processing.
Our expansion plan includes the purchase of more land spaces in the community so that we can optimize our productivity and meet up with the increasing demand. The cost of the purchase of land, erecting structures and drilling of boreholes and other equipment cost 6 million naira with additional 6 million as operating cost, expansion and employing of qualified personnel.
Expected profit
We are expecting a daily turnover of a N150,000-N180,000 which translates to about N4.5million to N4.9million per month based on our output and demand for our product.
Management team
In no particular order, we have the best and qualified set of management teams available.
Mr. Courage Ehigiamusoe is a product of the Department of Fisheries, Faculty of Agriculture. University of Benin. As an ex-lecturer of the department and a small-scale fish farmer, his knowledge is applicable to the management and care of the fishes
Mr. Wilson Olawole is a graduate of zoology from university of Benin with a master's in animal environment and biology. His knowledge is useful in monitoring the various environmental conditions of the ponds and making sure that the fishes get the best.
Mrs. Grace Chidiebere is a food technologist from Federal University of Technology, Akure. She makes sure the fishes are properly processed and packaged for consumption
Mr. Michael Eghaghe is a graduate of food and nutrition from FUTA who ensures that the processed fishes have the right nutritional value
Mr Isaac Olagunsoya is a quality control specialist with a degree in biochemistry and a masters in nutritional biochemistry from UNIBEN. He also ensures that the fishes get the right amount of feeds and the products are well packaged.
Miss Angela Nkechi Okeke is a graduate of Business Administration from University of Nigeria, Nsukka. she also attended the Lagos business school. Her input is valuable in the running of the fish farm
Mrs. Oyindamola Ayodeji has a degree in Accounting from University of Lagos. She is a registered accountant from the institute of chartered accountant of Nigeria and in charge of auditing the account to make sure that finances are optimized.
Mr. John Amos is the technology equipment manager. He is responsible for the maintenance of technological and electrical equipment in the fish farm. He has an HND in Electrical and Electronics engineering from Auchi Polytechnic in Edo State.
Mrs. Clara Jude is the head of human resources with a degree in Business Administration from UNIBEN. She functions in recruiting the best employees for the job. She is a financial analyst with a master's degree in Banking and finance from the University of Port Harcourt.
Our team also consist of unskilled staff who make sure the environment is clean and tidy. We have the best team comprising of intellectuals in their respective fields who make sure that the business succeeds and reaches its full potential.
FOR THE FULL DETAIL OF THIS BUSINESS PLAN, BUSINESS MODEL CANVAS, MARKETING PLAN AND FINANCIALS: 
Please call our business plan consultants:+2348147161686 info@apprenticeship.ng
We have a team that can help you write your specific business plans, feasibility studies, Marketing plan,  grant application,  market research, business brand story and so on.
Contact: +2348147161686 for details
Other Business Plans available:
Auto Repair Business plan in Nigeria
Block Industry Business plan in Nigeria
Sample Bread and Bakery Business Plan in Nigeria
Cassava Business plan in Nigeria 
Catering Business plan in Nigeria
Catfish Business plan in Nigeria 
Cattle rearing Business plan in Nigeria 
Chin chin Business plan in Nigeria 
Cocoa Business plan in Nigeria 
Coca-cola and Soft drinks distribution Business plan
Cooking gas Business plan in Nigeria 
Cosmetology Business plan in Nigeria 
Crèche Business plan in Nigeria
Drycleaning Business plan in Nigeria
Event management Business plan in Nigeria
Fashion Business plan in Nigeria
Feedmill Business plan in Nigeria 
Fish farming and processing Business plan in Nigeria
Frozen food Business plan in Nigeria
Furniture Business plan in Nigeria 
Ginger farming Business plan in Nigeria
Goat Business plan in Nigeria
Groceries Business plan in Nigeria
Groundnut oil Business plan in Nigeria 
Hair Salon Business plan in Nigeria
Herbal Business plan in Nigeria 
Hide and skin Business plan in Nigeria
Honey bee Business plan in Nigeria 
Honey production Business plan in Nigeria
Hotel Business plan in Nigeria
ICT Business plan in Nigeria
Integrated Agriculture Business plan in Nigeria 
Interior Deco Business plan in Nigeria 
Laboratory Business plan in Nigeria 
Leather tanning Business plan in Nigeria
Logistics Business plan in Nigeria
Maize farming Business plan in Nigeria
Medical equipment and supplies Business plan in Nigeria
Mobile Kitchen Business plan in Nigeria 
Moringa Business plan in Nigeria 
Mushroom Business plan in Nigeria
Music equipment Rentals Business plan in Nigeria 
Nylon Production Business plan in Nigeria 
Paint Production Business plan in Nigeria 
Palm oil Business plan in Nigeria 
Paper Recycling Business plan in Nigeria 
Petrol station Business plan in Nigeria 
Pharmacy Business plan in Nigeria 
Pig Farming Business plan in Nigeria 
PKO extraction Business plan in Nigeria 
Flavoured Plantain chips Business plan in Nigeria 
Plastic bottle recycling Business plan in Nigeria 
Popcorn Business plan in Nigeria 
Poultry Business Plan in Nigeria
printing and multimedia Business plan in Nigeria
Quarry Business plan in Nigeria 
Raw gold Business plan in Nigeria
Restaurant Business plan in Nigeria
Retail Business plan in Nigeria 
Rice milling Business plan in Nigeria 
School Business plan in Nigeria 
Shear butter Business plan in Nigeria
Shoe making Business plan in Nigeria
Soap making Business plan in Nigeria 
Tea and beverages Business plan in Nigeria 
Tissue paper and serviette Business plan in Nigeria 
Transportation Business plan in Nigeria
Travel and tour Business plan in Nigeria
Vegetable farming Business plan in Nigeria
Vocational Business plan in Nigeria
Water production business plan in Nigeria
Yam farming and sales Business plan in Nigeria 
Yougut production and sales Business plan in Nigeria