BEEKEEPING AND HONEY PRODUCTION BUSINESS PLAN IN NIGERIA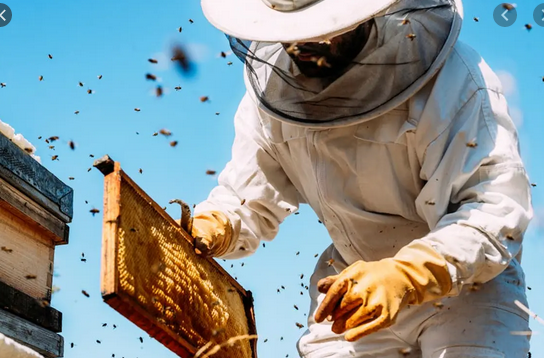 INTRODUCTION
Beekeeping has grown in popularity in recent years and the raw honey, beeswax, and royal jelly are much sought after products.
Beekeeping and honey production is a very lucrative business to venture into.
This beekeeping and honey production business plan has a 3 years projection revealing plans and milestones to cover in accordance with the vision and mission of our honey production business.
 EXECUTIVE SUMMARY
 FEOGEOSTOM Apiary And honey production company is an establishment involved in beekeeping, honey production and selling of pure and health worthy honey and other bee products such as beeswax and propolis.
FEOGEOSTOM Apiary and honey production is a startup company located in Ise Ekiti.
A suburban fertile town that is notable for horticulture this area is suitable for beekeeping because there is less noise around the area and the flowers will serve as forage and as food for the bees.
This business is owned by Mr Tomi an apiarist who came from a family known for beekeeping and honey production, he has a lifelong experience of beekeeping.
He is a graduate of Animal science from Ekiti State University.
He is passionate about beekeeping to generate cash flow for profitability.
He is the business development strategist.
Mr Tobi's knowledge and experience will bring competency and innovative ideas to the industry.
We believe that our operational skills, processing skills, packaging skills, and our customer relation service will make our company outstanding.
Below are the products and services we offer;
Selling of pure and health worthy honey.

Production and selling of other bee products such as beeswax and propolis.

Selling of bookkeeping courses at the apiary and also on our company's website.

Selling beekeeping equipment such as beehives or beekeeping clothing.

Mentoring, training and guidance on beekeeping and honey productions.

Selling services such as pollination.
OUR VISION STATEMENT
To be among the top five honey producing companies in Nigeria and to be the best honey producing company in the southwest region of the country.
OUR MISSION STATEMENT
To produce pure honey in large quantities.

To make available honey products that are valuable non-food apiary products, such as pollen, queen substance, propolis and beeswax; used in cleaning and beauty products

To educate people that are ecstatic about beekeeping about the importance of these valuable insects (bees) to nature, the food web and the health benefits of honey to humans.
FEOGEOSTOM Apiary and honey production business objectives;
To broaden the knowledge of people  on bees and bee culture

To improve the standard of beekeeping amongst amateur beekeepers;

To aid the study of subjects related and relevant to apiculture

To promote intelligent observation and good practical handling of bees

To afford mentoring, guidance, advice and assistance to beginners;

To arrange lectures, discussions, demonstrations and field days for the benefit of members
Main materials and equipment needed to start beekeeping and honey production:
Honey extractor

Beekeeping smoker

Bee hives

Bee suits

Packaging machine

Weighing scale

Entrance feeder during rainy season

Wheelbarrow and basins

Sealing machine
MARKETING PLAN
 FEOGEOSTOM Apiary and honey Production Company will be selling honey and other bee products directly to the public at the local food market and also selling in large quantities to the city's shopping centres.

The company will engage social media in a great way to promote the goods and advertise the company's Products.

To promote sales FEOGEOSTOM Apiary And honey production company will connect with bloggers, online news sources and we will also run google-ads, Whatsapp and Instagram ads also.

The company will register with an affiliate scheme by harnessing the power of people on the web to promote sales on our behalf.

In the near future we are considering setting up an online store via Amazon because they are widely trusted then devise ways to increase our visibility through the channel.
SWOT ANALYSIS
STRENGTHS:
Lifelong experience of beekeeping

High barriers to entry

Very high gross margin

Highly experienced owner-operator
WEAKNESSES
Limited business experience of book keeping

Competitors offer similar products swiftly

Limited startup fund

High transportation cost

The blending of numerous honey qualities leading to production of fake honey.
OPPORTUNITIES
The continuous growth of the number of bee colonies

Continued expansion for online sales

High quality of honey.

Favourable condition for the production of organic honey

Developing additional stores

Development of wholesale/ retail distribution relationships

Affiliate relationship with vendors

Development of proprietary products
THREATS
Products are sold by major competitors already

Insurance cost are increasing continually

Diseases

Increases in price inputs that cause upward pricing of honey and other bee products
FOR THE FULL DETAILS OF THIS BUSINESS PLAN, BUSINESS MODEL,CANVAS,MARKETING PLAN AND FINANCIAL:
PLEASE CALL OUR BUSINESS PLAN CONSULTANT: +2348147161686 INFO@apprenticeship.ng
WE HAVE A TEAM THAT CAN HELP YOU WRITE YOUR SPECIFIC BUSINESS
PLAN, FEASIBILITY STUDIES,MARKET RESEARCH, BUSINESS BRAND STORY AND SO ON.